How to set the right pricing strategy
It's no secret that the short-term rental market offers a higher rental income for property owners than the traditional long-term rental market. Price labs allows property owners to take advantage of price surges over holidays, long weekends, and festivals. It may be a little more effort to set up, but the reward of higher earnings make it worth it. One of the highlights of rental platforms is that you charge the guests for cleaning your property and a cleaning fee is a standard extra charge.
Understanding the trends of your neighbourhood market.
Websites like Airdna.co provide insightful data into the average and top-performing properties in any area or city around the world. When searching the average nightly rate on Airbnb in Sydney, AirDNA showed an amount of AU$190 during low season and AU$235 during peak season in December. Their data also shows that in Sydney, around 86% of short-term rentals are on Airbnb with 5% of rentals listed on Vrbo. A low 9% are listed on both platforms. This shows that there is so much money left on the table by not listing with multiple platform providers.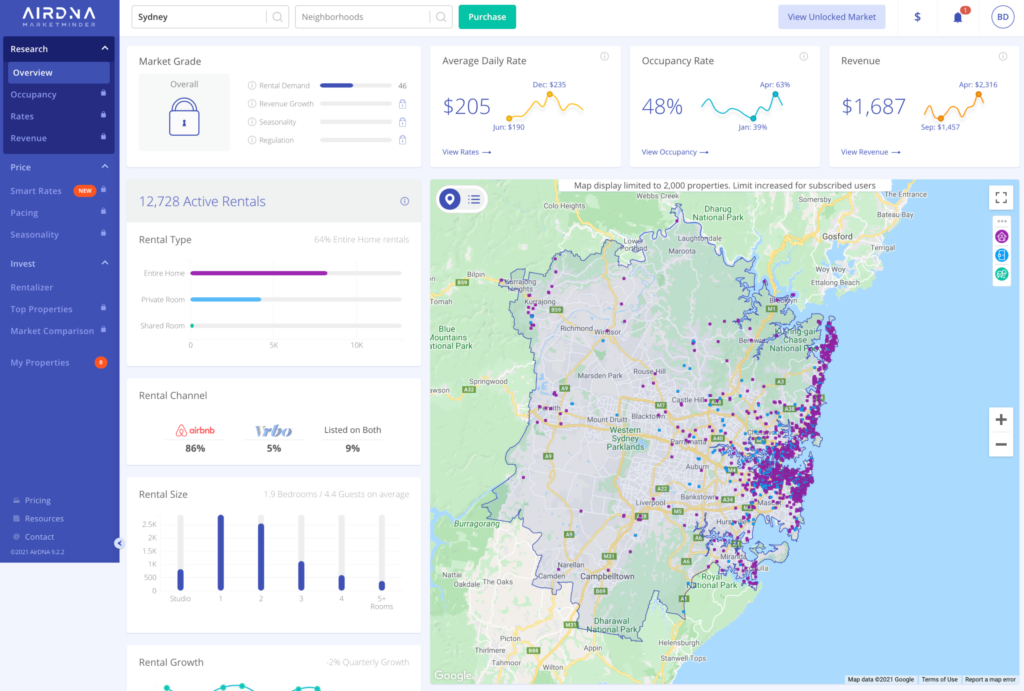 AirDNA is a good platform to benchmark your nightly rate. Although if you want a more detailed look at the prices of Airbnb, booking.com & VRBO in your neighbourhood, you may have to do a manual search. Searching for accommodation on the Fleurieu Peninsula, below, quickly shows the average nightly rate for properties accommodating 2 people.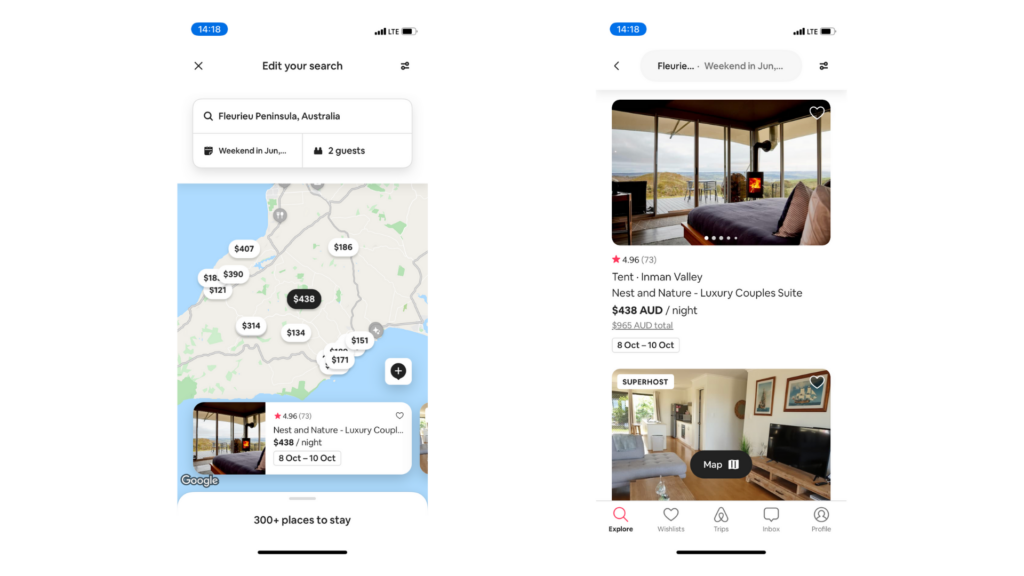 Know your extra fees
Calculate the costs of managing, cleaning and maintaining your property on short term rental platforms. If your linen costs are more when you have or more guests; guests understand that it can cost a little extra for these guest stays. As long as you note these fees in the Airbnb listing upfront, guests will have no problem paying as they know what to expect.
Some hosts and owners also like to charge a security fee. According to Airbnb, the amounts charged should be between AUS$100 -AUS$5000 for the duration of the stay. Should you need to make a claim, you can do so within 48h after the guests have checked out to ensure you can receive the cover required.
Create a comparison table
Once you've done your research, create a comparison table to visualise your property's nightly rate and extra fees to those of your Airbnb neighbours in the area. Airbnb offers a smart pricing tool to guide your nightly rate but we recommend creating a comparison table to get a true look into the prices for Airbnb's in your area.
Once you have a good overview of the average pricing and what your Airbnb will cost to manage, you're on your way to determine your nightly rate.
What is Dynamic Airbnb pricing?
Airbnb offer dynamic pricing it is a pricing strategy that changes the nightly rate as the supply and demand for Airbnb's in your area changes. If you want to optimise your revenue and increase your earnings, dynamic pricing is the way to go if you choose to just go with the one platform. You have to also remember that Airbnb's aim is to get as many bookings as possible which is great; but sometimes this can also mean you are charging to little which isn't in your best interest. This is why I prefer price labs as they are independent and they are working for you not for their own benefits.
Don't make the rookie mistake of setting your nightly rate and leaving it as is the entire time. If your property is in a holiday market on Australia's east coast, consider increasing the nightly rate from December to March. Then look at decreasing it again during the quieter winter month. Have a weekend coming up but your BnB isn't booked? Decrease the nightly rate by Thursday to encourage last-minute weekend bookings. A night booked at a lower rate is, after all, better than an empty property.
We hope the above information and tips helped you create a pricing strategy for your property to be listed on short term rental. When in doubt, you can always rely on the experts to help you out. Give us a call or email us to give you a free assessment of earning potential and tips in order to get your property generating the best income possible.
Looking for someone to professional manage your property that cares about how well your property exceeds and wants to make your overall experience personalised, enjoyable & stress-free? Feel free to reach out to us for a chat to see how we can help you.